Welcome to Triplett Tech!
about 1 year ago
Our Mission

Our mission is to provide a quality education through shared responsibility in a safe supportive environment for all students to meet the challenges of a global society.
We are "Committed to Excellence", and we work hard to make the site a primary source for timely information for all users, and a main gateway for improved communication between parents, teachers, students and other members of our community. Our goal and responsibility is to help each student develop an enthusiasm for learning, a respect for self and others, and the skills to become a creative independent thinker and problem solver.
Welcome to Triplett Tech!! - a message from Connie Pangle, Principal
We are proud of our school and want our students to be also. Several ingredients go into making an outstanding school. No school can be exceptional without students and staff who have the desire to excel in all areas of the operation. You must have the desire to be the best!
A friendly atmosphere between students and teachers is essential if we are to work together to create a school where maximum learning can take place. Teachers are always available to assist students to be the best they can possibly be.
Students will have many opportunities at Triplett Tech such as participation in SkillsUSA, internships, and work-based learning experiences. All students are encouraged to take advantage of these great opportunities.
This school belongs to everyone! Even though you come from different home schools, you are not red, blue or purple. You are green! We are Triplett Tech!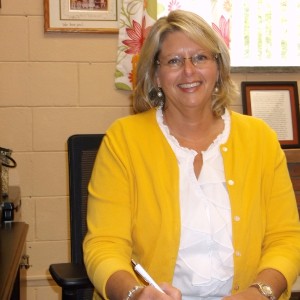 SkillsUSA
2 days ago
Triplett Tech students advance to National SkillsUSA
By Melissa Topey The Northern Virginia Daily
Triplett Tech SkillsUSA students recently participated in the SkillsUSA State Leadership Conference, which was held on April 12-13 at the Virginia Beach Convention Center.
Seven of those students advanced to compete at the National SkillsUSA competition June 24-28 in Louisville, Kentucky.
Students who placed first in the District 10 Competitions, that were held in February at Triplett Tech qualified to compete at the state level.
This is the largest number of students to go in recent history, said Connie Pangle, principal at Triplett Tech.
"What is so great is we have seven single event winners. None of our gold medal winners were part of a team event. So Triplett Tech is the best in the state in all those events," Pangle said.
"For Triplett Tech students to be the best in the state in seven areas is a testament to the outstanding instructors and high quality programs we have at Triplett," Pangle said.
Advancing to national competition are gold medal winners:
• Chris Hall, automotive and light repair.
• Blake Dysart, industrial motor control.
• Joseph Asbridge, masonry-post secondary.
• Tyler Baronowski, masonry.
• Joseph Foltz, motor service technology-post secondary.
• Andrew Daughtery, motor service technology.
• Angel Viniegra-Quintanilla, restaurant service.
Other students placing in state competitions were:
• Kamryn Custer, silver medal, culinary arts.
• Matt Avvenire, bronze medal, carpentry.
• Summer Sypholt, bronze medal, first aid/CPR.
• Charles Williams, bronze medal, food preparation assistant.
• Sabrina Franz, bronze medal, medical terminology
• Riley Gonzalez, Christyan Reid, Mary Mason, silver medal, promotional bulletin board
• Blake Dysart, bronze medal, residential wiring-technical exam
National SkillsUSA Competitive Events TBA
School Information
7 months ago
Congratulations to the following Triplett Tech students who recently participated at State Fair in Doswell, VA
Promotional Bulletin Board

2nd Place Riley Gonzalez and Caryssa McCombs
Job Demonstration
1st Place Emily Rexrode
5th Place Jordyn Williford
Auto Body Panel
9th Place Skii Bohlman
Auto Body Repair
2nd Place Garrett Green
5th Place Dwight Haslacker
Cake Decorating
1st Place Kamryn Custer
3rd Place Wilmary Rodriquez
Carpentry
2nd Place Matt Avvenire and Wesley Rogers
Auto Tech
5th Place Chris Hall and Dylan Stogsdill
Electricity
1st Place Daniel Dellinger
2nd Place Trenton Hitt
4th Place Dayne Schlentner